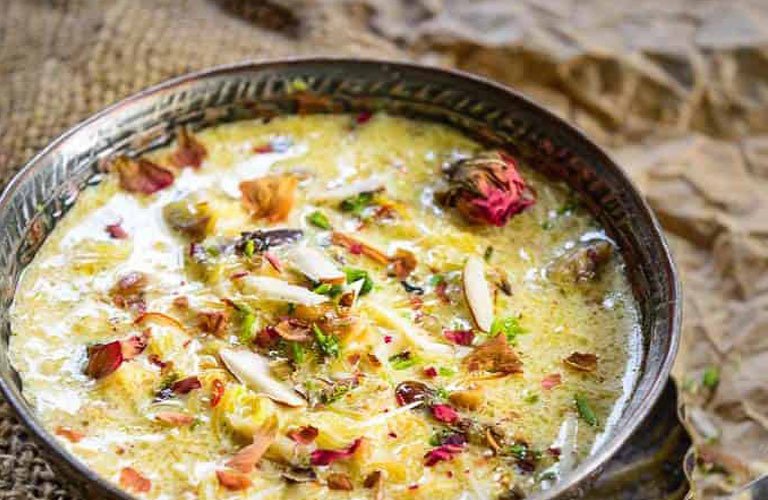 The festival of Eid-Ul- Fitr, brings with it an array of delectable foods. After those filling servings of Biryani, would you care for some sweet? No meal is considered complete without dessert. Hence, to sweeten your Eid celebration, coming from HoJo's kitchen is the recipe of everyone's favorite Eid specialty, Sheer Khurma. This vermicelli and milk-based dessert imparts just the right flavor, post the heavy meal. Is your mouth-watering? Tie up the apron, and get set to prepare this dish yourself.
Prepare Sheer Khurma, the Easy Way
Ingredients
Vermicelli 1 cup
1 and a half liter Full-fat milk
Soaked Raisins
1 and a half tablespoon
Sugar As per your taste
Condensed Milk
3/4th Cup
50 gms Cashews,(soaked in water for 3-4 hrs)
2 tbsp. finely chopped Pistachio
12 Almonds
1 tbsp. Chironji / Charoli seeds
4-5 Dates (Soak in water and sliced)
Cardamom powder – 1/2 tsp
7-8 strands Saffron – few threads soaked in milk
Hot Water – 1/2 cup ( to soak the nuts and dry fruits)
Sheer Khurma- Method of Preparation
Pour 1 and 1/2 liter of milk into a thick-bottomed pan. Leave it to boil for a duration of 10-15 minutes. Sprinkle half a teaspoon of green cardamom powder and keep stirring it on a medium flame for 3 minutes.
To this add the soaked raisins and leave it to boil for about five minutes. Side by side, in another pan, melt ghee and roast the peeled almonds, chopped cashew nuts, dates, chironji, and vermicelli. Keep roasting until the vermicelli turns golden brown in color. Once that's done turn off the flame and leave it aside.
To the boiled milk add saffron-strands and the milk it's condensed in.
Add the vermicelli and the contents that were sauteed in ghee.
Sprinkle sugar according to your taste. Add 3/4th cup of condensed milk and continue stirring.
Leave it to boil for 3-4 minutes and your Sheer Khurma is ready.
It tastes best when it is cold. After it cools down refrigerate it.
Festivals are anticipated for their specialties. Don't you think so? This Eid spread happiness by preparing tasty Sheer Khurma.