Isolation Package | Get Dedicated Care during Self-Quarantine in Bengaluru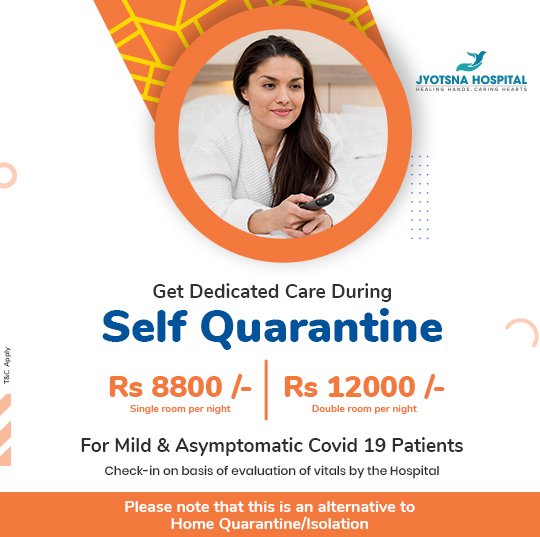 👉 As per the MoH Regulations, the minimum period of Self-Quarantine is 7 Days or more. Hence this Covid-19 Isolation Package is applicable for a minimum stay of 7 Days or more. Check-in is based on the evaluation of vitals by the Medical team. 👈
Dedicated Care is a Click Away !
This sounds great. Please get in touch with me !
Covid-19 Isolation Package* in North Bengaluru | Dedicated Care for your Self-Quarantine ( 7 Days+)
Howard Johnson by Wyndham Bengaluru, in association with Jyotsna Hospital Bengaluru offers a personalised Covid-19 Isolation Package that ensures dedicated care during self-quarantine for Mild & Asymptomatic Covid-19 Patients in Bengaluru. If you are looking for the best-equipped self – quarantine hotel in Bengaluru, you have come to the right place.
Kindly note that this is an alternative to Home Quarantine/Isolation & NOT a Hospital.
This Self-Quarantine Package is available in 2 Options :
Benefit from
Nursing Supervision 24/7
Regular Monitoring of Vitals
Breakfast, Lunch & Dinner
In Room Tea/Coffee Maker
Wi-Fi Access
What is Not Included
Admissions Kit ( Pulse Oximeter, Thermometer, Hand Rub, N95 Mask)
First Aid in case of Emergency, Bed Priority at hospital subject to availability
Investigations, Medicines, Oxygen, Ambulance Services, Consumables
Anything not mentioned in the above Self-Isolation Package inclusions
Dedicated Covid-19 Quarantine Care
The best-equipped self – quarantine hotel in Bengaluru is just a click away !
*Limited Period Offer