Life is sometimes nothing more than a series of events. Hence, when events play such a crucial role in one's life it's important to zero in on the best venue. Bengaluru with its pub culture and IT hubs, also has dynamic venues to host events of any sort. Be it a conference or a big fat Indian wedding, one can surely find the perfect venue within the confines of the city.
The city's urbanism and level of development is admired by people from all over the world. What makes this city so appealing to its visitors? Apart from the agreeable climate, it's perhaps the multiplexes, malls, museums and cafes. That's not all, what further enhances attending an event in Bengaluru, is the connectivity within the city.

The city, as a centre of popular events and celebrations, is also home to some of the biggest and popular indoor and outdoor events in south India. Here are 4 of Bengaluru's best Event Venues that hosted some of the most memorable events of Bengaluru.

Palace Grounds
Palace Grounds is one among the city's most frequented event venues. Name the event and the space can be customized to suit the occasion. If it's a corporate event, the space provides attendees with amenities and comforts, that might just result in fruitful business connections. For a wedding, the space is redecorated to exude a fairytale like charm. The reception set-ups, mirror the dreams that couples dream of. The personalized décor and top-notch services offered at a private family gathering, makes the attendees all the more happier. This venue is open all year round, and has ten halls to host any type of event. This venue can be easily reached in a 25 minute drive from our hotel.
25 Minutes from Howard Johnson Bengaluru
Ebisu Convention Centre
Another impressive event venue in Bengaluru, is the Ebisu Convention Center. Sprawled across 8.5 acres of land, the venue is home to 2 spaces – the Ebisu Palace and the Ebisu Studio. The ambience of the spaces lends a classy air to the event. Its splendid interiors gives the venue a plush feel. That's not all, the venue is multi-purpose and can host a wedding, a conference, an exhibition or even a fashion show with utmost ease. It's equipped with all the amenities and infrastructure that's needed to plan a grand scale event. The attendees attending an event in the venue are well-tended. With its enormous seating capacity and parking spaces, they have nothing to complain about. Besides all its facilities, the best thing about attending an event in this center is its distance from our hotel.
13 Minutes away from Howard Johnson Bengaluru
Manpho Convention Center
Is your event small-scale or large scale? Is it an exhibition or a wedding? Whatever the occasion is, you will find just the venue that you are looking for at Manpho Convention Center. It's fitted in with small and large scale spaces. If you are looking to exhibit your creations, this center provides you with an ideal platform. When it comes to weddings, the space is transformed into a set-up that's better than what you envisioned. The center's conference space is greatly admired by out-station guests and locals alike. The most delightful thing about attending an event in the venue, is the commute time. A 6-minute drive from our property, and you will reach the venue.
6 Minutes away from Howard Johnson Bengaluru
Event Venues at Howard Johnson Bengaluru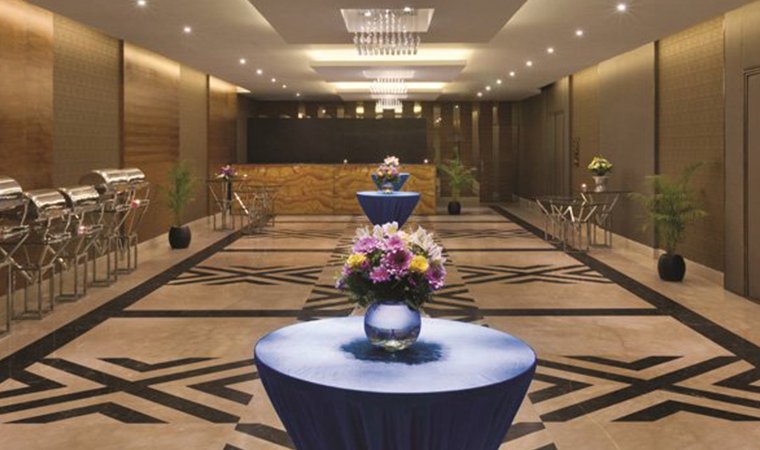 While in North Bengaluru, especially for those looking to hold Social Events, Wedding receptions, Brand Launches and Conferences, one of Bangalore's best Event Venues can be found at Howard Johnson Bengaluru, just a stone's throw away from Manyata Tech Park. Our event venues are carefully planned spaces that practically come alive to embody the cause of the event. Be it a large scale event like a reception or conference or deeply personal social events like birthday parties or wedding anniversary celebrations, the venue set-up practically breathes life into the event.

Besides its great, yet affordable event venues, the property has other delights which further make attending an event there an all the more pleasant affair, the hotel's location near Manyata Tech Park, makes it a favorable option for business travellers.
Have an Event in Mind? Let our Specialists Help you.